Tofu is one of the delicious dishes that is loved by many people and is used in meals, in hot pot dishes, etc. It is even used as a snack that is loved by both children and the elderly. Tofu is made mainly from soybeans, from making to finished products, it seems that there is no added seasoning, so tofu is quite "pale". Therefore, fish sauce dipping tofu is always focused on preparing to make the dish more delicious.
1.Sweet and sour fish sauce dipped in fried beans
Fried tofu can be used with hoisin sauce, chili sauce, ketchup or soy sauce, etc. However, you should try to use tofu dipped with sweet and sour fish sauce to experience a new feeling. Guaranteed, once you have used it, you will be addicted.
 Prepare materials
Hoang Gia fish sauce: 2 tablespoons

Lemon: 1 fruit, juice squeezed, lemon peeled

Vinegar: 3/2 tablespoons

Minced garlic: 2 tablespoons

Minced chili: 1 tablespoon

White granulated sugar: 3 tablespoons

Sliced ​​coriander leaves: 2 – 3 leaves  
 How to make delicious fried tofu dipping sauce
You put sugar, vinegar and pure fish sauce in a bowl, stir well (you can add a little boiled water to cool if it's light, if it's dense, you don't need to add water).

Sugar dissolves, add lemon juice, stir gently.

Add minced chili garlic, lemon cloves and finely chopped coriander leaves and you're done.
Fish sauce needs to have a sweet and sour taste. You can adjust the amount of ingredients to suit your family's taste.
2.Tofu dipping sauce with Thai style
Ingredient
Hoang Gia fish sauce: 1 spoon

Palm sugar or brown sugar: 3 tablespoons

White granulated sugar: 2 tablespoons

Tamarind sauce: 3 spoons

Rice vinegar: 3 tablespoons

Filtered water: 3 tablespoons

Chili: 3-5 chopped

Coriander: 2 tablespoons

Crushed roasted peanuts: 3 tablespoons

Salt: ½ teaspoon
Doing
Step 1: Put the pot on the stove, add jaggery (brown sugar), white granulated sugar, salt and filtered water, stir until the salt and sugar dissolve. You should stir with low heat so that everything melts slowly to avoid burning the pot.

Step 2: When the sugar dissolves, add tamarind sauce and rice vinegar into the mixture. Depending on the tamarind you choose, give more or less. You should put a little first and then taste it, then add more. Cook with low heat, stir with your hands until you get a paste and thicken, then turn off the heat. When you just turn off the stove, you add fish sauce right away to suppress the sour taste.

Step 3: Put the mixture into a bowl/cup. Add chili, coriander and peanuts and mix well to enjoy.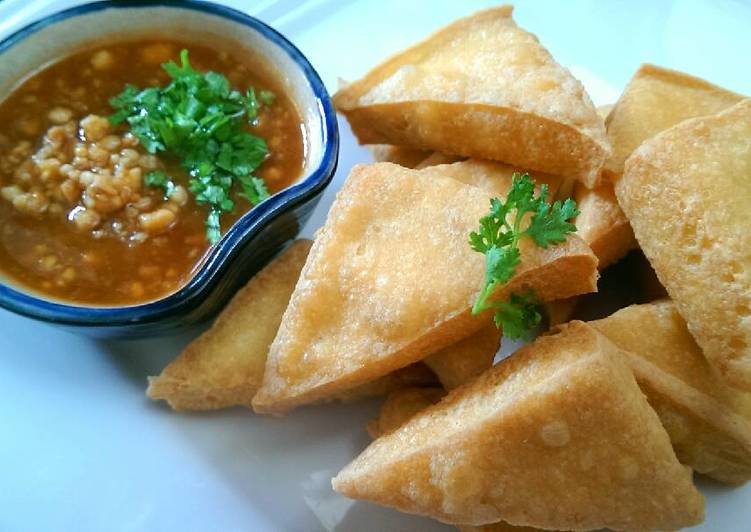 Fish sauce made dipping sauce plays an important role in determining the taste of fried tofu. Therefore, you need to choose a delicious fish sauce, suitable for the taste of your family. Hoang Gia fish sauce is the right choice for Vietnamese family meals and dishes. Coming to Hoang Gia, you will not only be cared for and provided with information about products by the staff, but also choose a traditional standard fish sauce for your family.